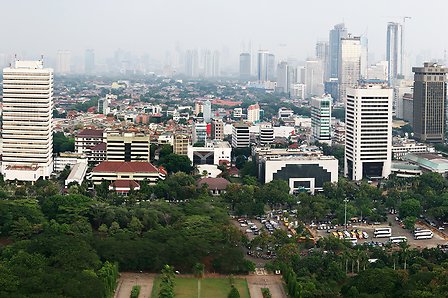 In 2013, Solvay Group implemented a Representative Office for Soda Ash & Derivatives to increase its presence in Jakarta.
In October 2014, aiming to fulfill its ambition in Indonesia, Solvay Group created an Office to increase its footprint in Indonesia.
This office presence strengthens the Group's presence in Indonesia, and allows intimacy and long term relationship with our customers in a region growing at fast pace in the market segments of Glass, Personal Care, Automotive, Tire, Mining, Oil & Gas, Animal Feed & Aquaculture, Food & Beverages.
We are a global leader in Soda Ash and Sodium Bicarbonate, important raw materials for Glass, Detergent, Food & Confectionary, Animal feedstock and Hemodialysis solution. To learn more, visit Soda Ash.
In order to support the Indonesian ambition towards cleaner air, we are offering our SOLVAir Solutionswhich helps to reduce acid gas emissions from Incinerators, coal-fired power plants, and in other heavy industries.

We are also a global leader in Hydrogen Peroxide, a green substance for bleaching purpose and Silicato support Indonesian growing tire industry.

To support the Indonesian textile and automotive industry, we are also offering a wide range solutions with Polyamide.

In addition, Solvay develops high added-value, innovative, sustainable and competitive solutions, tailored to the demands of its end customers for the following markets:

Today, PT. Solvay Chemicals Indonesia is in the country and dedicated to:

Provide services to all of our customers in Indonesia, and support them selecting the right added-value products for their applications.

Help the Indonesian industry to gain additional competencies and different perspectives in various markets.
The local Indonesian team is committed to provide services in accordance with the principles of sustainable development, and to cultivate long-term relationsships with its clients.
Solvay offers a safe and transparent working environment for all of its employees